ABOUT THE SMART LOCAL GOVERNMENT SUMMIT
Hands on, in-depth content created to enable liveable towns and cities
The need to grow and transform is vitally important to our towns and cities. To reflect this, the Cities & Regions Summit 4.0 has changed its name to the Smart Local Government Summit.


2020 EVENT THEME & STRUCTURE - FROM HYPE TO REALITY
We've done this to ensure that we cut through the "smart cities" hype and deliver our delegates and your prospective clients, content and solutions that they want.
During our recent survey of more than 30,000 local government employees, involved in all aspects of the transformation of our cities and towns, half of the respondents said that they look towards the vendor community for advice and guidance on smart city technology.
On the flip side, over 75% said it's "moderately hard to difficult" to find relevant information that provides hard facts and figures without all the hype.
In simple terms, our delegates don't want a "sales pitch" They want advice, they want you to share your expertise.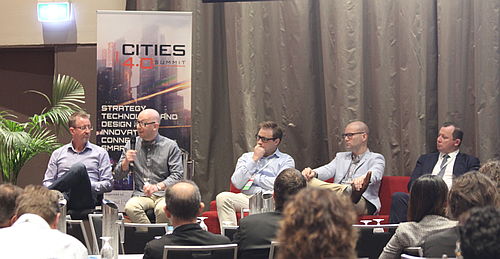 ARE YOU A SMART CITY ENABLER?
The Smart Local Government Summit is your opportunity to get your brand "front of mind" with your target market.
Engage with the senior city & regional government leaders that are implementing smart city projects

Influence business strategies and create new opportunities for your organisation

Be part of real world discussions around smart city challenges and opportunities

Showcase your capabilities and expertise, and position your company as a partner of choice
What makes the Smart Local Government Summit 2020 unique?

Using smart technologies to create liveable towns and cities

Understanding what technology to deploy and where, to maximise operational cost savings
Delivering new services to citizens – understanding what makes the biggest difference

Budget, budgeting and balancing – how can smart help you?

The path to resilient communities; anticipate risk, limit impact and bounce back.